GREAT WHITE NORTH RECORDS

http://www.greatwhitenorthrecords.com

Montreal, Canada

PAST DISTRIBUTORS: Sonic Unyon, FAB, The End Records (BMG Rights Management Current)

September 25, 2022:

NEW PUBLIC DOMAIN RELEASES

PESTILENCE - EXITIVM

August 5, 2022:

NEW PUBLIC DOMAIN RELEASES

POWER CONCEPT - ANTHROPOCENTRICITY

ABRASIVE - EDGE OF DARKNESS

THRENODY - RID OF FLESH

ABYSSALL - VICTORY CAN WAIT FOREVER

AMBIVALENCE - HYENA'S BREATH

FORTERSSE - THEMES POUR LA REBELLION (FORTRESS - THEMES FOR THE REBELLION)

JULY 22, 2022:

NEWS: Montreal Promotions now open, now run by Forward Regression Records Halifax, Canada at OFFICIAL URL www.gwnrecords.com .

Press update, Montreal Office closed and switched to Halifax at www.officialcollapse.com between 2006 - present, the Montreal office closure led to no office local to Montreal only Halifax was open all bands were released.

Press Update In Progress, this Montreal Music Promotion formerly located on Ontario Street Montreal had closed back in 2006 during the magazine release schedule when the office was abandoned during the album launches.

The compact discs never made it to print for store distribution listed above, this name has now been restarted under the original url on all Great White North Records albums and magazine printed material.

The office switched to Halifax under a different name from the original label to staff who stayed on after the office closure to deal with artist management and have now restarted this promotional url for back catalog and future new releases on this label for local Montreal promotions.

Several releases were cancelled during this period including from Halifax, now our promotion is back open in Montreal at the official Great White North Records url www.gwnrecords.com .

PAST RELEASES NO LONGER AVAILABLE ONLY COLLAPSE - SEE LIST BELOW

NEW ALBUMS COMING SOON ON GREAT WHITE NORTH RECORDS!


webmaster@urbansoundexchange.com
webmaster@bleeckerbobsrecords.com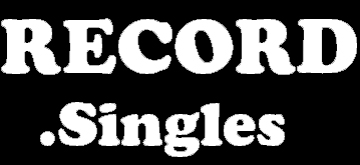 -----------------------------------------------------------------------------------------------------------------------------------------------------------------------------
LINKS: www.quebecdeathmetal.com , www.slam-metal.com , www.gore-metal.com , www.death-core.com , www.gore-grind.com , www.grind-core.com , www.death-metal.org , www.urbansoundexchange.com , www.aandarecords.com www.gwn-europe.com , www.grinditrecords.net , www.record.singles .
CURRENT BANDS:
Collapse | www.officialcollapse.com
Forward Regression Records: www.forwardregression.com

------------------------------------------------------------------------
PAST RELEASES:
GWN 001 - Ghoulunatics - Mystralengine - 1999
GWN 002 - Suffocate - Exit 64 - 2000
GWN 003 - Necrology - Malignancy Defined - 2001
GWN 004 - Merlin - They Must Die - 2000
GWN 005 - Asgard - Cold Season - 2002
GWN 006 - Diachronia - XX's Decline 2001
GWN 007 - C of E - Protect Me From What I Want - 2002
GWN 008 - Divine Enema - Under Phoenix Phenomenon - 2003
GWN 009 - Obliveon - Greatest Pits - 2002
GWN 010 - Soulforge - Duality - 2002
GWN 011 - Merlin - Brutal Constructor - 2004
GWN 012 - Aggression A.D. - Forgotten Skeleton - 2004
GWN 013 - Paroxysm - Revelation is Denied - 2004
GWN 014 - Brief Respite - Lullaby To The Moon - 2004
GWN 015 - The Mass - Towards Darkness - 2005
GWN 016 - Mind Eclipse - Utopia: Formula of God - 2005
GWN 017 - Cortisol - Meat - 2005
GWN 018 - Fuck The Facts -Collection of Splits - 2006
GWN 019 - Aggression - The Full Treatment - 2005
GWN 020 - Collapse - Destroying by Design - 2006
GWN 021 - Talamyus - As Long as it Flows - 2006
GWN 023 - Hellacaust - Inevitable Dementia - 2006
GWNMC007 - C of E - Day by Day - CD Single - 2001
*Split Compilation with Unmatched Brutality records**
GWNUBR1 - Various -Great White North 2K5 - 2005
BAND & TRACK LIST:
Bloodchurn -Concieved in Blasphemy
Ingurgitating Oblivion - Slaves To The Pyre
Insidious Decrepancy - Maniacal Contempt Spawned From Agonizing Depravity
Prostitute Disfigurement - Slaughterhouse Sledgehammer
Devourment - Babykiller
Brodequin - The Read Theatre
Massmurder - Homicidal Whore
Guttural Secrete - Slit Into Succulence
Liturgy - Shrouded In Suffering
Inveracity - Repulsed By Vaginal Reek
Brief Respite - Double Sens
Fistfuck - La Commerciale
Paroxysm - Regime of the Holy Terror
The Mass - Despair
Aberrant - Fuck Waste
Mind Eclipse - Gospel in Blood
Funeralium - Par Le Sang Des Arbres
Merlin - Liar
The Eternal Blade - Ching Hsia
Fuck The Facts - Ballet Addict
UNRELEASED ALBUMS

Various - Profusion Volume 1 - Released by Prodisk - http://www.prodiskmusic.com
Paroxysm - Revelation is Denied - 2006 - Reissue with Bonus Video

Gorguts - Live In Rotterdam - 2006 - Released by Prodisk - http://www.prodiskmusic.com

Obliveon - From This Day Forward - 2006 - Released by Prodisk - http://www.prodiskmusic.com

Thy Flesh Consumed - Pacified by Oceans of Blood - 2006 - Released by CDN Records

Fuck The Facts - Stigmata High Five - 2006 - Released by Relapse Records

Towards Darkness - Solemn - 2006 - Released by Twilight Foundation
Obliveon - Nemesis - 2006 - Released by Prodisk - http://www.prodiskmusic.com
Cortisol - s-12 -2006 - Released by Prodisk - http://www.prodiskmusic.com
Gorguts - Live at the Whiskey DVD 2006 - UNRELEASED

Various - Le Brotherhood DVD - 2006 - UNRELEASED
Grind It! Records Releases
GIT-001 - Merlin - Deathkoteque - 2001
GIT-002 - Trails of Anguish - Relentless Abhorrence of Misery's Grievance - 2002
GIT-003 - Aphasia - Arcane in Thalassa - 2002
GIT-004 - Divina Enema - At The Conclave - 2002
GIT-005 - BK 49 - Join the Dead
GIT-006 - Dahmer - The Studio Sessions: Discography
GIT-007 - Fuck The Facts - Backstabber Etiquette
GIT-008 - Fistfuck - 23 Songs in the Same Hole - 2004
GIT-009 - Fistfuck / Aberrant - Split CD
De Mysteriis Records Releases
MYS 001 - The Eternal Blade - The Eternal Blade - 2005
MYS 002 - Funerarium - Noces Chimiques - 2005

POSTERS: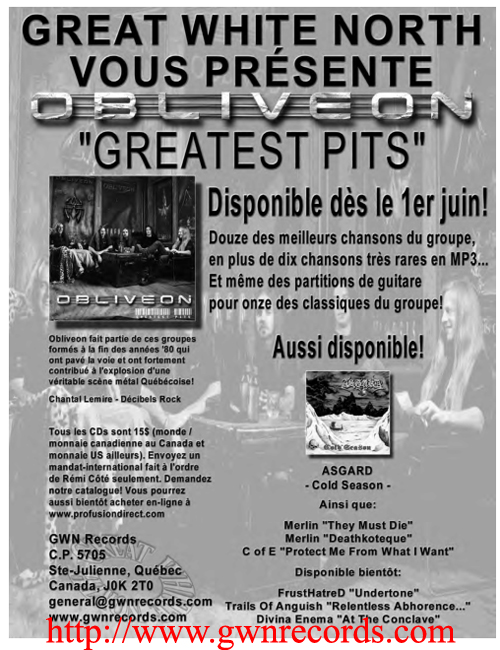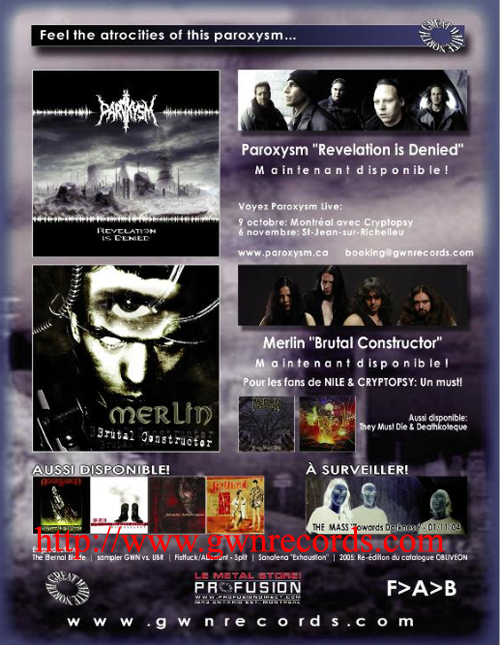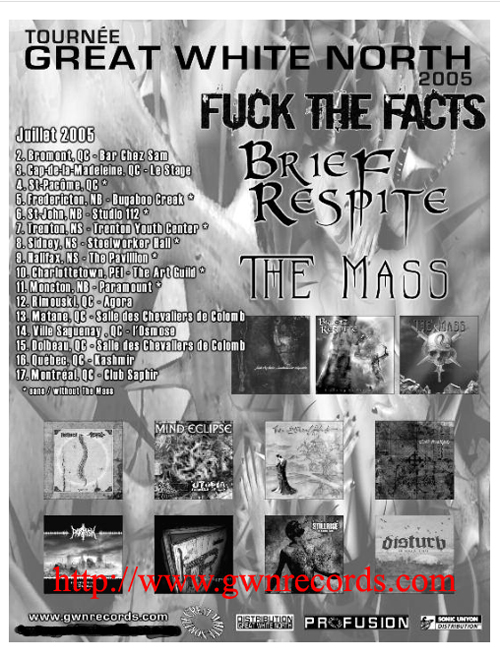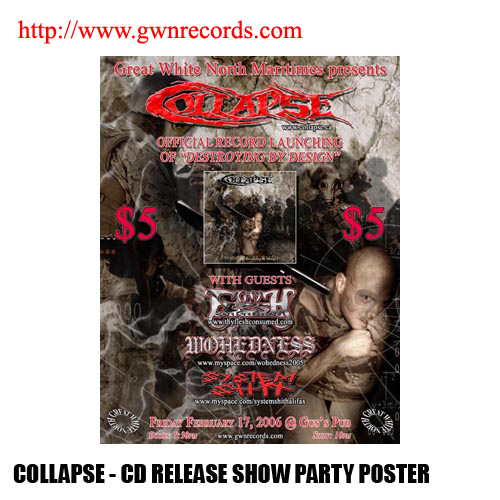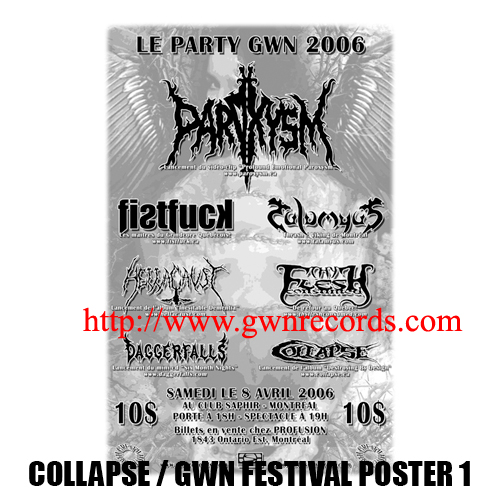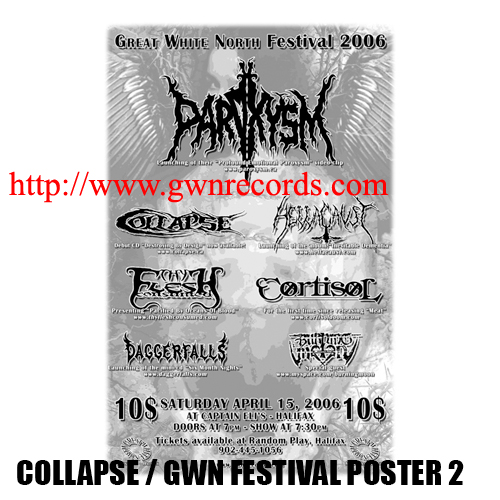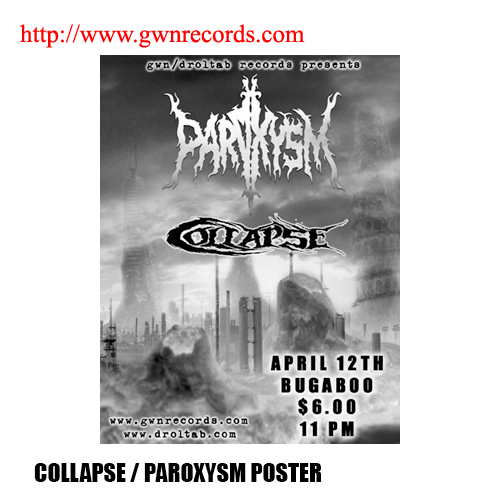 LINKS / INTERVIEWS:
Interview With Great White North Records
https://www.metal-rules.com/interviews/gwnrecords.htm
Interview With Franck Camus Sick Drummer Magazine
https://sickdrummermagazine.com/the-drummers/death-grind/franck-camus/
Monteal Quebec Metal Corner
http://www.rockdiscography.com/quebec/indexqcdead.html
Interview With BK-49
https://www.voicesfromthedarkside.de/interview/bk-49/
Soulforge Metal Inside
https://www.metalinside.de/band/soulforge
Soulforge Merlin
https://www.metalinside.de/band/merlin
Interview With Merlin
http://www.members.tripod.com/MerlinBrutal/GWN.html
Exclaim Magazine Hellacaust
https://exclaim.ca/music/article/hellacaust-inevitable_dementia
Great White North Records Rate Your Music
https://rateyourmusic.com/label/great_white_north_records/
Obliveon Quits BlabberMouth.net
https://blabbermouth.net/news/obliveon-call-it-quits-after-15-years
Aggression AD Review
http://www.roughedge.com/cdreviews/a/aggressionad.htm
Legacy Page Index:
http://www.gwnrecords.com/about_us.html
http://www.gwnrecords.com/main.html
http://www.gwnrecords.com/releases.html
http://www.gwnrecords.com/news.html
http://www.gwnrecords.com/exit.html
http://www.gwnrecords.com/malignancy.html
http://www.gwnrecords.com/theymustdie.html
http://www.gwnrecords.com/coldseason.html
http://www.gwnrecords.com/daybyday.html
http://www.gwnrecords.com/history.html
http://www.gwnrecords.com/grinditrec/arcane.html
OTHER LINKS:
http://www.urbansoundexchange.com

http://www.bleeckerbobsrecords.com

http://www.officialcollapse.com

http://www.advanceddungeonsanddragons.com

http://www.digital-distribution.org

http://www.compactdisc.singles

http://www.compactdisc.digital
http://www.popmusicsingles.com